Go back
to local info
Getting Around - Local information
Filter by:
Please see the attached document for information about the accessible taxi services in your area
---
Associated materials
If you are over 65 and looking at getting active you may be interested in NL Leisure's programme called Active Age. You can take up a new activity or sport or continue with your favourite sport.
Contact Information:
Programme: Active Age
Website: www.nlleisure.co.uk/specialised-health-classes/active-age
Phone: 01236 341968
---
Associated materials
NL Leisure's Active Health Programme, in partnership with NHS Lanarkshire, provides a range of supported programmes to help individuals realise the benefits of becoming more physically active and also assisting those who are recovering from minor or serious illness.
The programmes are aimed at individuals who would benefit from a reduction in sedentary behaviour, increase in physical activity or who need more specific support in taking part in physical activity sessions due to a particular health issue.
For more information please visit: www.activenl.co.uk/active-health or contact:
Melanie Menzies
Health & Wellbeing Manager
Tel: 01236 341709
Email: menziesmel@northlan.gov.uk
Whatever your eye problem your first port of call should be an optometrist (optician). An optometrist is the best person to assess urgent eye problems, check for eye disorders and treat eye conditions. They have the professional training and necessary equipment to assess most eye problems.
Community optometry practices (opticians) have resumed providing routine eye care services in all settings. This includes regular eye examinations and contact lens check-ups.
You can self-present to any community optometrist in Lanarkshire although it is advised that you call first to arrange an appointment to allow the practice to comply with safe distancing regulations. In some cases you can be offered advice by telephone, or you book into a practice to be seen.
All practices are able to manage a wide range of conditions. Some practices will have a prescribing optometrist available allowing for more complex treatments to be offered.
Most optometrists are part of the Lanarkshire Eye-health Network Scheme (LENS). The optometrists who are part of the LENS can offer an appointment and assessment service for any concerns you may have.
For more information please visit: www.nhslanarkshire.scot.nhs.uk/community-optician.
---
Associated materials
Those registered as sight impaired, severely sight impaired or those on qualifying benefits can access free/reduced travel Scotland Wide. For further information, please see the following website: www.transport.gov.scot/concessionary-travel/60plus-or-disabled/#37401
Reduced companion fares are also available for people who meet the criteria.
Strathclyde Partnership for Transport (SPT) offers a transport service called MyBus, this is a bookable bus service that can pick you up from home and take you to your destination. For more details, please visit their website: www.spt.co.uk/bus/mybus/
Scotrail offer a service which supports individuals who have visual impairments, for more information please see www.scotrail.co.uk/plan-your-journey/accessible-travel
Dementia Circle finds, tests and shares products and digital solutions in order to help families live well with dementia.
Products are tested by families with a person with a diagnosis of dementia and feedback is shared on the website so people can make better decisions on what they may find useful. All the reviews come from testers so the reviews given are of good quality and can be trusted.
To find out more, please visit the website: https://www.alzscot.org/living-with-dementia/staying-independent/useful-products/reviews-from-dementia-circle-testers or contact the 24 hours helpline: 0808 808 3000
A disabled persons railcard can get 1/3 off adult rail fares for travel on the National Rail network in Great Britain.
If you're travelling with another adult they will also get 1/3 off their rail fare, so you can save money for a friend or family member too!
There are no time restrictions on the Disabled Persons Railcard, so you can use it to get a discount on tickets at any time of the day.
For more information visit: www.disabledpersons-railcard.co.uk/
Regular eye tests detect any issues with your vision and if necessary your Optomotrist will refer you to an eye specialist called an Ophthalmologist. Your Ophthamologist will diagnose your condition and advise of treatments. If your sight loss is at a particular level you may meet the criteria for certification as sight impaired or severely sight impaired. Only your Ophthalmologist in the hospital can determine this.
For further information, contact a Rehabilitation and Mobility Officer at your local Social Work Office.
Airdrie Sensory Impairment
Email: AirdrieSensoryImpairment@northlan.gov.uk
Tel: 01236 856000
Coatbridge Sensory Impairment
Email: CoatbridgeSensoryImpairment@northlan.gov.uk
Tel: 01236 856110
Cumbernauld Sensory Impairment
Email: CumbernauldSensoryImpairment@northlan.gov.uk
Tel: 01236 856170
Bellshill Sensory Impairment
Email: BellshillSensoryImpairment@northlan.gov.uk
Tel: 01698 403520
Motherwell Sensory Impairment
Email: MotherwellSensoryImpairment@northlan.gov.uk
Tel: 01698 274470
Wishaw Sensory Impairment
Email: WishawSensoryImpairment@Northlan.gov.uk
Tel: 01698 274430
Featured Local Information
Contacting adult social care services in North Lanarkshire
The following website has a form for contacting North Lanarkshire Council about adult social care services.
North Lanarkshire Council website: Contacting adult social care services
---
Energy Grants & Housing Support Services
Energy Grants and Payments PDF
North Lanarkshire Council Housing Support Services PDF
---
A video about the new Tech Flat, which has a range of assistive technology available.
Assistive Technology Flat demonstration video
Assistive technology catalogue
---
Virtual & telephone support service, along with cancer packs service, available for people affected by cancer in Lanarkshire.
"We're still here for you"
Lanarkshire Macmillan information
---
Alzheimer Scotland
Alzheimer Scotland is Scotland's national dementia charity. Their aim is to make sure nobody faces dementia alone. They provide information and support to people who are worried about their memory and for everyone living with dementia and their families.
Alzheimer Scotland - What's Online? PDF
Alzheimer Scotland - Action on Rights PDF
---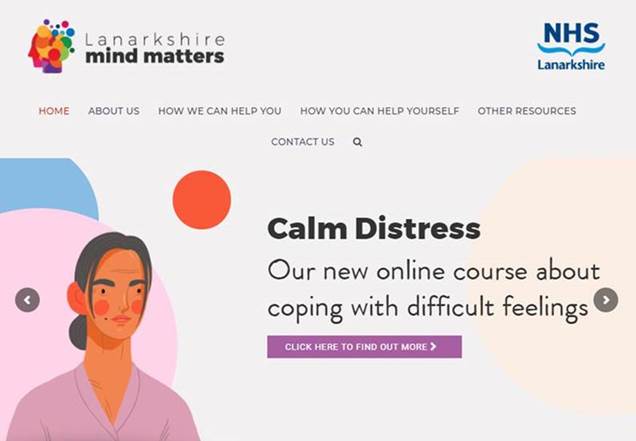 ---
Your guide to parks, green spaces and nature.
---
ALISS
A Local Information System for Scotland enabling people to find and share information on resources, services, groups and support in their local communities and online.
For more information visit: https://www.aliss.org/
---
NHS Lanarkshire - "Practical Tips to help my memory" booklet
If you have a problem with your memory it can have an impact on your ability to do everyday tasks. If you follow helpful habits and routines this may minimise the impact of your memory impairment. This booklet is designed by Occupational Therapists to illustrate some practical strategies that you might find helpful.
Practical Tips to help my memory PDF
---
What do you want for tea? booklet
Quick and easy recipes to support you to eat well at home.
---
Food Train in Lanarkshire
Food Train makes hundreds of grocery deliveries every week, ensuring those most in need have access to fresh groceries.
A team of local volunteers help with household jobs, deliver books through their library service.
They also provide friendly social contact and meals through their Meal Makers and befriending services.
Sharing food and friendship with an older neighbour PDF
Food Train Connects leaflet PDF
---
Aura in North Lanarkshire
Aura is a new service, supporting people affected by domestic abuse across North Lanarkshire.
---
This section provides a range of local services and well-being information for you to find advice or seek further assistance to support your health.
---
Take our quiz to see if you are a carer