Go back
to local info
Safety - Local information
Filter by:
NL Leisure's Active Health Programme, in partnership with NHS Lanarkshire, provides a range of supported programmes to help individuals realise the benefits of becoming more physically active and also assisting those who are recovering from minor or serious illness.
The programmes are aimed at individuals who would benefit from a reduction in sedentary behaviour, increase in physical activity or who need more specific support in taking part in physical activity sessions due to a particular health issue.
For more information please visit: www.activenl.co.uk/active-health or contact:
Melanie Menzies
Health & Wellbeing Manager
Tel: 01236 341709
Email: menziesmel@northlan.gov.uk
If you feel at risk of being harmed, or think you know someone who may be at risk, you must tell someone. You can contact your local social work services, health professionals or the police. They will take your concerns seriously and work to make sure everyone is safe.
For more information on adult protection in North Lanarkshire, please visit www.northlanarkshire.gov.uk/index.aspx?articleid=15672.
You have indicated that you may be hard of hearing. We recommend that you complete a hearing assessment which can be found under the Hearing section on the online self-assessment page.

Safer Homes, is a joint partnership service with North Lanarkshire Council and offers a free service to householders from North Lanarkshire who would benefit from additional safety and security measures. The team have been carrying out the Safer Homes service since October 2012, and have received more than 2060 referrals, visited over 2,500 properties, installed over 9,000 pieces of safety equipment.
To request a referral for a Safer Homes assessment please contact either your local Housing or Social Work Office.
Housing office - www.northlanarkshire.gov.uk/index.aspx?articleid=7982
Social Work Office - www.northlanarkshire.gov.uk/directories/social-work-locality-offices
NHS Inform provides online information on ways you can prevent falls. The site includes information on causes of falls, how to deal with anxiety about falling, strength and balance exercises and much more.
For more information please visit www.nhsinform.scot/healthy-living/preventing-falls.
If you wish to stop smoking then 'Quit Your Way' can help with this. 'Quit Your Way' is a free NHS service available in North Lanarkshire.
For more information, or to find your local service, please see the attached documents, or use the contact details below.
Please note: the helpline is open 7 days a week Monday to Friday, 8.00am to 10.00pm, and Saturday and Sunday, 9.00am to 5.00pm. There is also a web chat service available on the web page that is available during the same times and dates specified above.
Contact Information:
Organisation: 'Quit Your Way'
Website: www.nhsinform.scot/care-support-and-rights/nhs-services/helplines/quit-your-way-scotland
Phone: 0800 848484
Quit Your Way also provides specialist support to pregnant women and their partners to quit smoking. Protecting you and your baby's health from tobacco smoke is one of the best things you can do to give your child a healthy start in life, it's never too late to quit. For specialist support, please visit: www.nhslanarkshire.scot.nhs.uk/services/quit-your-way/#pregnancy
---
Associated materials
As a local authority, North Lanarkshire Council, is responsible for dealing with antisocial behaviour within our communities. North Lanarkshire works in partnership with Police Scotland and other agencies to make sure our communities are safer and more pleasant places to live, work and visit. If you are experiencing issues in relation to antisocial behaviour, please call 0300 123 1382 or email antisocialenquiries@northlan.gov.uk. Our phone line operates 24-hours a day and our call handlers are available to take your complaint and provide relevant advice and assistance.
Your answers have indicated that you have regretted letting someone into your home, e.g. someone claiming to be from a utility company or a pushy sales person.
If you have not already done so, you may wish to report this person to Trading Standards on 01236 856361 or email TradingStandards@northlan.gov.uk. In order to investigate this, they will need as much specific information as possible.
If you would like to report a suspected incident of Doorstep Crime, please contact your local police or Trading Standards office. More information can be found on:
www.northlanarkshire.gov.uk/housing/repairs-and-advice/tenant-safety/bogus-callers
Featured Local Information
Contacting adult social care services in North Lanarkshire
The following website has a form for contacting North Lanarkshire Council about adult social care services.
North Lanarkshire Council website: Contacting adult social care services
---
Energy Grants & Housing Support Services
Energy Grants and Payments PDF
North Lanarkshire Council Housing Support Services PDF
---
A video about the new Tech Flat, which has a range of assistive technology available.
Assistive Technology Flat demonstration video
Assistive technology catalogue
---
Virtual & telephone support service, along with cancer packs service, available for people affected by cancer in Lanarkshire.
"We're still here for you"
Lanarkshire Macmillan information
---
Alzheimer Scotland
Alzheimer Scotland is Scotland's national dementia charity. Their aim is to make sure nobody faces dementia alone. They provide information and support to people who are worried about their memory and for everyone living with dementia and their families.
Alzheimer Scotland - What's Online? PDF
Alzheimer Scotland - Action on Rights PDF
---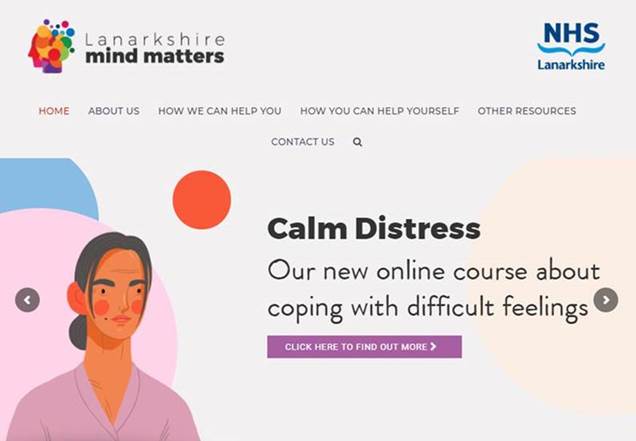 ---
Your guide to parks, green spaces and nature.
---
ALISS
A Local Information System for Scotland enabling people to find and share information on resources, services, groups and support in their local communities and online.
For more information visit: https://www.aliss.org/
---
NHS Lanarkshire - "Practical Tips to help my memory" booklet
If you have a problem with your memory it can have an impact on your ability to do everyday tasks. If you follow helpful habits and routines this may minimise the impact of your memory impairment. This booklet is designed by Occupational Therapists to illustrate some practical strategies that you might find helpful.
Practical Tips to help my memory PDF
---
What do you want for tea? booklet
Quick and easy recipes to support you to eat well at home.
---
Food Train in Lanarkshire
Food Train makes hundreds of grocery deliveries every week, ensuring those most in need have access to fresh groceries.
A team of local volunteers help with household jobs, deliver books through their library service.
They also provide friendly social contact and meals through their Meal Makers and befriending services.
Sharing food and friendship with an older neighbour PDF
Food Train Connects leaflet PDF
---
Aura in North Lanarkshire
Aura is a new service, supporting people affected by domestic abuse across North Lanarkshire.
---
This section provides a range of local services and well-being information for you to find advice or seek further assistance to support your health.
---
Take our quiz to see if you are a carer