Go back
home
Information and services
Filter by:
The Barnardo's Axis Lanarkshire service supports those affected by personal, adult or parental substance misuse. The service provides support from ages 14 to 21, and for care leavers up to the age of 26. Advice and information is available on the impact of high risk behaviours such as drug or alcohol misuse, violence and domestic abuse. Intervention and treatment services can be accessed, along with 1 to 1 and peer support.
Contact Information:
Organisation: Barnardo's Axis Lanarkshire
Address: Barnardo's Axis Lanarkshire Suite T, Town Hall Business Centre 1-11, High Road, Motherwell, Lanarkshire, ML1 3HU
Website: www.barnardos.org.uk
Phone: 01698 262443 Extension 2
New College Lanarkshire currently offers two further education courses on BSL.
These courses are BSL Introduction, and BSL Level 1.
To find out more information on what both of these courses offer, please follow the links below:
Deaf people in North Lanarkshire are taking part in a pilot project to test British Sign Language (BSL) on-line interpretation services using web-cam-equipped net books. We are working in partnership with Deaf Connections, Lanarkshire Deaf Club and Lanarkshire Deaf Forum to run the six-month project. The initiative will provide up to 50 local deaf people with free access to Deaf Connections new Sign on Screen service, which allows easy and convenient access to online interpretation services, allowing deaf people to communicate with hearing people over the phone and face-to-face without the need to hire an interpreter to be physically present. Sign on Screen removes the requirement for deaf people to book interpreters in advance by giving them access to interpreters at Deaf Connections via webcam link. Effectively, the system gives the power to take an interpreter with them wherever they go and communicate easily with anyone they meet, which is already making a huge difference to the quality of life of users. Sign on Screen, which was developed by Deaf Connections, is for use by deaf and hard-of-hearing people across the UK. For more information see www.northlanarkshire.gov.uk/ Council and democracy > News > Archived news > Last year > October > New opportunities for deaf people. North Lanarkshire Council currently operates an on-line BSL interpretation services in its Motherwell and Airdrie First Stop Shops, in partnership with Deaf Connections. This allows BSL users to visit one of the First Stop Shops and speak to a member of staff about any Council business with a BSL interpreter available over the internet. No appointment is necessary. The service is available at Motherwell First Stop Shop, Merry Street on Thursdays from 9am – 12pm and Airdrie First Stop Shop, 10 Bank Street, Airdrie on Tuesdays from 9am -12pm.
Featured Local Information
Contacting adult social care services in North Lanarkshire
The following website has a form for contacting North Lanarkshire Council about adult social care services.
North Lanarkshire Council website: Contacting adult social care services
---
Energy Grants & Housing Support Services
Energy Grants and Payments PDF
North Lanarkshire Council Housing Support Services PDF
---
A video about the new Tech Flat, which has a range of assistive technology available.
Assistive Technology Flat demonstration video
Assistive technology catalogue
---
Virtual & telephone support service, along with cancer packs service, available for people affected by cancer in Lanarkshire.
"We're still here for you"
Lanarkshire Macmillan information
---
Alzheimer Scotland
Alzheimer Scotland is Scotland's national dementia charity. Their aim is to make sure nobody faces dementia alone. They provide information and support to people who are worried about their memory and for everyone living with dementia and their families.
Alzheimer Scotland - What's Online? PDF
Alzheimer Scotland - Action on Rights PDF
---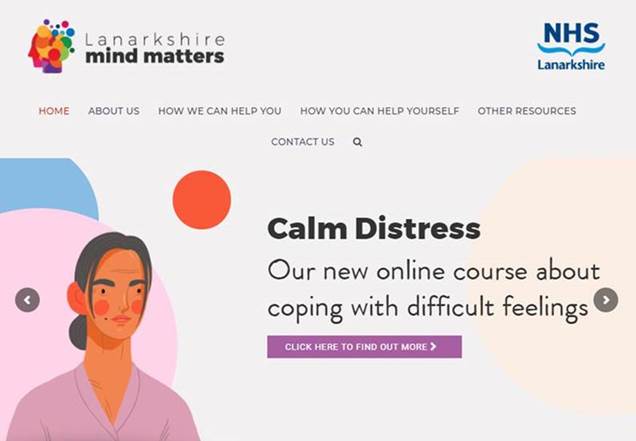 ---
Your guide to parks, green spaces and nature.
---
ALISS
A Local Information System for Scotland enabling people to find and share information on resources, services, groups and support in their local communities and online.
For more information visit: https://www.aliss.org/
---
NHS Lanarkshire - "Practical Tips to help my memory" booklet
If you have a problem with your memory it can have an impact on your ability to do everyday tasks. If you follow helpful habits and routines this may minimise the impact of your memory impairment. This booklet is designed by Occupational Therapists to illustrate some practical strategies that you might find helpful.
Practical Tips to help my memory PDF
---
What do you want for tea? booklet
Quick and easy recipes to support you to eat well at home.
---
Food Train in Lanarkshire
Food Train makes hundreds of grocery deliveries every week, ensuring those most in need have access to fresh groceries.
A team of local volunteers help with household jobs, deliver books through their library service.
They also provide friendly social contact and meals through their Meal Makers and befriending services.
Sharing food and friendship with an older neighbour PDF
Food Train Connects leaflet PDF
---
Aura in North Lanarkshire
Aura is a new service, supporting people affected by domestic abuse across North Lanarkshire.
---
This section provides a range of local services and well-being information for you to find advice or seek further assistance to support your health.
---
Take our quiz to see if you are a carer