Go back
home
Information and services
Filter by:
Deaf Connections is the leading voluntary organisation delivering specialist services to adult deaf people across Scotland. They are committed to enabling deaf people to participate fully in the community to make equality a normal feature of their everyday lives.
Deaf Connections work with agencies to promote the interests of people in the Deaf Community focusing on quality of life, independence and social inclusion. For more information please using the following contact details.
Contact Information:
Organisation: Deaf Connections
Address: 100 Norfolk Street, Glasgow, G5 9EJ
Website: www.deafconnections.org
Phone: 0141 420 1759

Deaf Roots and Pride Project is funded by the National Lottery and provides peer mentoring to deaf children and young people aged 8 to 20 years who are transitioning from primary to secondary school or from secondary school to adulthood. It matches young people with adult deaf mentors who can act as positive role models, helping children and young people to develop skills and confidence.
Deaf Roots and Pride Transitions Scotland has a new webpage on the British Deaf Association website. All of its BSL videos and resources since the start of the project in 2016 have been categorised and now available, so it will be easy for young people, parents and professionals to access the information they need to support transitions.
For more information, please visit the following website: https://bda.org.uk/drpscotland, or view the attached documents. This information is provided by the H&SC North Lanarkshire Council Transition team.
---
Associated materials
Lanarkshire Deaf Services provide services to the Deaf Community of Lanarkshire. The services provided include a Drop In Centre and a Sign Language Interpreting agency.
Their aim is to remove the barriers to communication for Deaf People throughout Lanarkshire. You can contact them using the details provided.
Contact Information:
Organisation: Lanarkshire Deaf Services
Address: Unit 40 Fountain Business Centre, Ellis Street, Coatbridge, ML5 3AA (Opening hours: Mon-Fri 10am-4pm)
Website: www.deafserviceslanarkshire.co.uk
Email: admin@deafserviceslanarkshire.co.uk
Phone: 01236 604808
Mobile: 07806497562
The living well with Dementia Café has now been up and running since August 2011 and regularly gets up to 50 people attending. It is aimed at those with dementia as well as those with memory concerns. It provides an informal and relaxed environment where people who have a diagnosis of dementia, as well as those worried about their memory, their carers, and informal care givers, can ask questions and get information and advice from health professionals about any memory issues they may have.
We want to reduce the stigma of a dementia diagnosis and give those with dementia – and other memory problems – their families, and informal carers, a place where they can gather, share their experiences and get some practical support in a friendly setting. Visitors will be able to pop into the cafe at their leisure and speak informally to a wide range of professionals and discuss all aspects of memory problems and get signposted to relevant services.
The cafe is open from 1pm to 4pm in Motherwell Football Club's Centenary Suite on the first Friday of every month.
Contact Information:
Organisation: Dementia Cafe
Address: Centenary Suite, Motherwell Football Club, Fir Park Stadium, Firpark Street, Motherwell, North Lanarkshire, Scotland, United Kingdom, ML1 2QN
Email: DementiaCafe.Motherwell@lanarkshire.scot.nhs.uk
Phone: 01698 269649
Dementia Circle finds, tests and shares products and digital solutions in order to help families live well with dementia.
Products are tested by families with a person with a diagnosis of dementia and feedback is shared on the website so people can make better decisions on what they may find useful. All the reviews come from testers so the reviews given are of good quality and can be trusted.
To find out more, please visit the website: https://www.alzscot.org/living-with-dementia/staying-independent/useful-products/reviews-from-dementia-circle-testers or contact the 24 hours helpline: 0808 808 3000
A disabled persons railcard can get 1/3 off adult rail fares for travel on the National Rail network in Great Britain.
If you're travelling with another adult they will also get 1/3 off their rail fare, so you can save money for a friend or family member too!
There are no time restrictions on the Disabled Persons Railcard, so you can use it to get a discount on tickets at any time of the day.
For more information visit: www.disabledpersons-railcard.co.uk/
If you or someone you know is experiencing domestic abuse, you can seek help and support at:
Rape Crisis National Helpline - 08088 01 03 02
Domestic Abuse Helpline - 0800 027 1234
Men's Advice Line (for men experiencing domestic abuse) - 0808 801 0327
Respect Phone Line (help for people who are abusing their partners) - 0808 802 4040
Lanarkshire Rape Crisis Centre - 01698 527003
Aura - 01698 757667
Shakti Women's Aid – 0131 475 2399
Amina, The Muslim Women's Resource Centre – 0808 801 030
Women's Aid:
Monklands Women's Aid – 01236 432061
Motherwell and District Women's Aid – 01698 321000
North Lanarkshire Women's Aid – 01236 730992
Featured Local Information
Contacting adult social care services in North Lanarkshire
The following website has a form for contacting North Lanarkshire Council about adult social care services.
North Lanarkshire Council website: Contacting adult social care services
---
Energy Grants & Housing Support Services
Energy Grants and Payments PDF
North Lanarkshire Council Housing Support Services PDF
---
A video about the new Tech Flat, which has a range of assistive technology available.
Assistive Technology Flat demonstration video
Assistive technology catalogue
---
Virtual & telephone support service, along with cancer packs service, available for people affected by cancer in Lanarkshire.
"We're still here for you"
Lanarkshire Macmillan information
---
Alzheimer Scotland
Alzheimer Scotland is Scotland's national dementia charity. Their aim is to make sure nobody faces dementia alone. They provide information and support to people who are worried about their memory and for everyone living with dementia and their families.
Alzheimer Scotland - What's Online? PDF
Alzheimer Scotland - Action on Rights PDF
---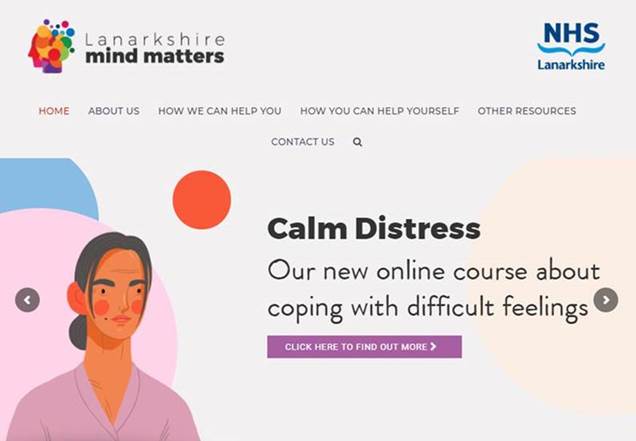 ---
Your guide to parks, green spaces and nature.
---
ALISS
A Local Information System for Scotland enabling people to find and share information on resources, services, groups and support in their local communities and online.
For more information visit: https://www.aliss.org/
---
NHS Lanarkshire - "Practical Tips to help my memory" booklet
If you have a problem with your memory it can have an impact on your ability to do everyday tasks. If you follow helpful habits and routines this may minimise the impact of your memory impairment. This booklet is designed by Occupational Therapists to illustrate some practical strategies that you might find helpful.
Practical Tips to help my memory PDF
---
What do you want for tea? booklet
Quick and easy recipes to support you to eat well at home.
---
Food Train in Lanarkshire
Food Train makes hundreds of grocery deliveries every week, ensuring those most in need have access to fresh groceries.
A team of local volunteers help with household jobs, deliver books through their library service.
They also provide friendly social contact and meals through their Meal Makers and befriending services.
Sharing food and friendship with an older neighbour PDF
Food Train Connects leaflet PDF
---
Aura in North Lanarkshire
Aura is a new service, supporting people affected by domestic abuse across North Lanarkshire.
---
This section provides a range of local services and well-being information for you to find advice or seek further assistance to support your health.
---
Take our quiz to see if you are a carer