Go back
home
Information and services
Filter by:
You have indicated that you may have lost interest in the things you once enjoyed or that you are feeling stressed or anxious at this time. You may find that exercising or participating in group activities could help. If you don't feel confident, we have found going with someone you know might help.
North Lanarkshire Council offer the Passport to leisure scheme which gives price reductions on sport, leisure and cultural activities.
Contact Information:
Website: www.northlanarkshire.gov.uk/index.aspx?articleid=27674
Phone: 01236 812595
You may benefit from having a fire safety check if you have not had one recently. Strathclyde Fire and Rescue carry out free home fire safety visits and fit smoke alarms free of charge if required.
This can be arranged through Fire Scotland by calling their community safety free phone helpline on 0800 0731 999 or texting Check to 61611. Alternatively, visit their website by following the link www.firescotland.gov.uk/your-safety.
If hearing is a problem for you, there are alternative alarms that may work for you and can be fitted free of charge. If you'd like to find out more, contact a rehabilitation mobility officer via your local social work offices.
Well-informed provides a relaxed and informal resource for people who are enquiring about mental health and well-being issues at a local level. The resource is for anyone living/working in North Lanarkshire and can be accessed via the freephone information line, face-to-face, email, post, and at outreach stands in health centres, hospitals and libraries in the area. The service enables people to make informed choices in their treatment and care by guiding them to resources that may be relevant to their enquiry as well as the factors influencing positive mental health and well-being. This is a drop-in service.
Location:
62 Windmillhill Street
Motherwell, Lanarkshire
ML1 1TA
Contact Information:
Telephone: 0800 073 0918
Website: http://www.elament.org.uk
Email: well-informed@samh.org.uk
Open Monday to Friday 9:00 - 17:00
People may lose interest in going out for a whole variety of reasons including illness, bereavement or an unexpected life event.
Well-informed is a local service that promotes well being by providing information or arranging a time to meet up and talk.
Contact Information:
Organisation: Well-Informed
Website: www.elament.org.uk
Email: well-informed@samh.org.uk
Phone: 0800 073 0918
Here is a list by area of the taxi companies that provide wheelchair friendly services: 
Airdrie:
Airdrie Taxis on 01236 761144
Penny Cars on 01236 752752
Town Taxis on 01236 755555
Bellshill:
Maxi's Taxis on 01698 842525
Redline on 01698 746622
United Taxis on 01698 740770
Coatbridge:
Swift Cars on 01236 435533
Town Taxis on 01236 440567
Cumbernauld: 
Cumbernauld Taxis on 01236 738383
Central Cab Co on 01236 722772
Kwik Kars on 01236 720208
Station Taxis on 01236 616161
Kilsyth Cars on 01236 821111
Fast Cars on 01236 824444
Moodiesburn Cars on 01236 875588
Motherwell and Wishaw:
Redline on 01698 746622
United Taxis on 01698 740770
Shotts:
Chatty's Taxis on 01501 820125
The 'Wired In' online community was developed as a way of empowering people to tackle drug and alcohol issues. 'Wired In' aims to provide an environment of opportunity, choice, hope, and enable individuals and families to find their path to recovery from substance abuse problems. Visit: www.recoverystories.info/wired-in
Featured Local Information
Contacting adult social care services in North Lanarkshire
The following website has a form for contacting North Lanarkshire Council about adult social care services.
North Lanarkshire Council website: Contacting adult social care services
---
Energy Grants & Housing Support Services
Energy Grants and Payments PDF
North Lanarkshire Council Housing Support Services PDF
---
A video about the new Tech Flat, which has a range of assistive technology available.
Assistive Technology Flat demonstration video
Assistive technology catalogue
---
Virtual & telephone support service, along with cancer packs service, available for people affected by cancer in Lanarkshire.
"We're still here for you"
Lanarkshire Macmillan information
---
Alzheimer Scotland
Alzheimer Scotland is Scotland's national dementia charity. Their aim is to make sure nobody faces dementia alone. They provide information and support to people who are worried about their memory and for everyone living with dementia and their families.
Alzheimer Scotland - What's Online? PDF
Alzheimer Scotland - Action on Rights PDF
---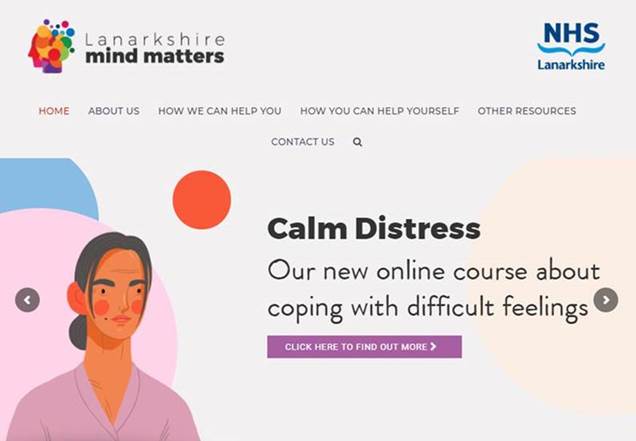 ---
Your guide to parks, green spaces and nature.
---
ALISS
A Local Information System for Scotland enabling people to find and share information on resources, services, groups and support in their local communities and online.
For more information visit: https://www.aliss.org/
---
NHS Lanarkshire - "Practical Tips to help my memory" booklet
If you have a problem with your memory it can have an impact on your ability to do everyday tasks. If you follow helpful habits and routines this may minimise the impact of your memory impairment. This booklet is designed by Occupational Therapists to illustrate some practical strategies that you might find helpful.
Practical Tips to help my memory PDF
---
What do you want for tea? booklet
Quick and easy recipes to support you to eat well at home.
---
Food Train in Lanarkshire
Food Train makes hundreds of grocery deliveries every week, ensuring those most in need have access to fresh groceries.
A team of local volunteers help with household jobs, deliver books through their library service.
They also provide friendly social contact and meals through their Meal Makers and befriending services.
Sharing food and friendship with an older neighbour PDF
Food Train Connects leaflet PDF
---
Aura in North Lanarkshire
Aura is a new service, supporting people affected by domestic abuse across North Lanarkshire.
---
This section provides a range of local services and well-being information for you to find advice or seek further assistance to support your health.
---
Take our quiz to see if you are a carer