Go back
home
Information and services
Filter by:
You can obtain independent energy saving advice from the Energy Saving Trust Scotland. You may also find the Home Energy Efficiency Programme for Scotland (also known as HEEPS) helpful. More information on this can be found on the Energy Saving Trust website under the Home Energy Scotland tab. This is the new Scottish Government initiative to tackle fuel poverty and increase energy efficiency in homes.
Contact Information:
Organisation: Energy Saving Trust Scotland
Website: www.energysavingtrust.org.uk/
Phone: 0800 512 012
'Expeerience Counts' Peer Support Workers will create an environment which empowers people to take control of their own recovery. Peer Support workers will support people to develop their own individualised recovery action plans and work towards personal goals over a period of around 6 months.
Another aspect to the 'Expeerience Counts' service is that Community Link workers will link individuals into their local communities and can also offer support to anyone wishing to access North Lanarkshire's 'Well Connected' Domains.
Contact Information:
Organisation: Expeerience Counts
Email: expeeriencecounts@samh.org.uk
Phone (Motherwell): 01698 265 659
Phone (Airdrie): 01236 439417
Regular eye tests detect any issues with your vision and if necessary your Optomotrist will refer you to an eye specialist called an Ophthalmologist. Your Ophthamologist will diagnose your condition and advise of treatments. If your sight loss is at a particular level you may meet the criteria for certification as sight impaired or severely sight impaired. Only your Ophthalmologist in the hospital can determine this.
For further information, contact a Rehabilitation and Mobility Officer at your local Social Work Office.
Airdrie Sensory Impairment
Email: AirdrieSensoryImpairment@northlan.gov.uk
Tel: 01236 856000
Coatbridge Sensory Impairment
Email: CoatbridgeSensoryImpairment@northlan.gov.uk
Tel: 01236 856110
Cumbernauld Sensory Impairment
Email: CumbernauldSensoryImpairment@northlan.gov.uk
Tel: 01236 856170
Bellshill Sensory Impairment
Email: BellshillSensoryImpairment@northlan.gov.uk
Tel: 01698 403520
Motherwell Sensory Impairment
Email: MotherwellSensoryImpairment@northlan.gov.uk
Tel: 01698 274470
Wishaw Sensory Impairment
Email: WishawSensoryImpairment@Northlan.gov.uk
Tel: 01698 274430
Featured Local Information
Contacting adult social care services in North Lanarkshire
The following website has a form for contacting North Lanarkshire Council about adult social care services.
North Lanarkshire Council website: Contacting adult social care services
---
Energy Grants & Housing Support Services
Energy Grants and Payments PDF
North Lanarkshire Council Housing Support Services PDF
---
A video about the new Tech Flat, which has a range of assistive technology available.
Assistive Technology Flat demonstration video
Assistive technology catalogue
---
Virtual & telephone support service, along with cancer packs service, available for people affected by cancer in Lanarkshire.
"We're still here for you"
Lanarkshire Macmillan information
---
Alzheimer Scotland
Alzheimer Scotland is Scotland's national dementia charity. Their aim is to make sure nobody faces dementia alone. They provide information and support to people who are worried about their memory and for everyone living with dementia and their families.
Alzheimer Scotland - What's Online? PDF
Alzheimer Scotland - Action on Rights PDF
---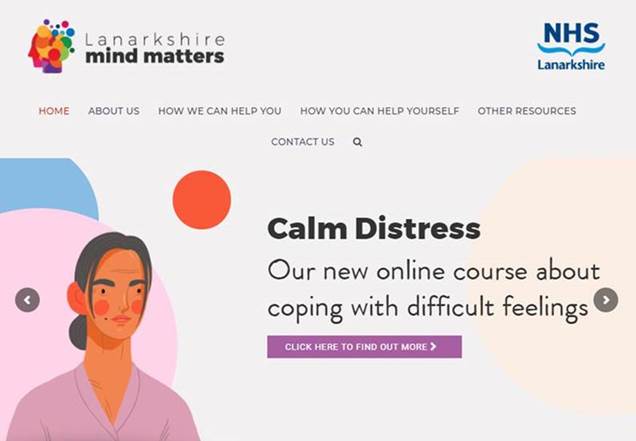 ---
Your guide to parks, green spaces and nature.
---
ALISS
A Local Information System for Scotland enabling people to find and share information on resources, services, groups and support in their local communities and online.
For more information visit: https://www.aliss.org/
---
NHS Lanarkshire - "Practical Tips to help my memory" booklet
If you have a problem with your memory it can have an impact on your ability to do everyday tasks. If you follow helpful habits and routines this may minimise the impact of your memory impairment. This booklet is designed by Occupational Therapists to illustrate some practical strategies that you might find helpful.
Practical Tips to help my memory PDF
---
What do you want for tea? booklet
Quick and easy recipes to support you to eat well at home.
---
Food Train in Lanarkshire
Food Train makes hundreds of grocery deliveries every week, ensuring those most in need have access to fresh groceries.
A team of local volunteers help with household jobs, deliver books through their library service.
They also provide friendly social contact and meals through their Meal Makers and befriending services.
Sharing food and friendship with an older neighbour PDF
Food Train Connects leaflet PDF
---
Aura in North Lanarkshire
Aura is a new service, supporting people affected by domestic abuse across North Lanarkshire.
---
This section provides a range of local services and well-being information for you to find advice or seek further assistance to support your health.
---
Take our quiz to see if you are a carer