Go back
home
Information and services
Filter by:
Listening and Communication Enhancement is a computerised, interactive software training program to improve the ear-to-brain muscle. LACE can assist in developing listening, communication and interaction skills for people with and without hearing loss.
The LACE program offers a variety of listening exercises to improve your listening skills when in noisy environments, listening to a speaker with fast speech and to fill any missed speech.
LACE can be downloaded onto your home PC and runs on Windows or Macintosh PCs. To find out more about purchasing LACE for your home, please visit: https://laceauditorytraining.com.
There are various groups throughout North Lanarkshire that support and give information on Mental Health issues:
Lanarkshire Links is a group of ordinary people from all walks of life who are in some way affected by mental ill health. We are experts by experience in living with mental health problems or caring for someone who lives with a mental health problem.
Lanarkshire Links is an organisation which may be of interest to mental health service users and carers. They support people to get involved in the planning, development, monitoring and evaluation of mental health services in Lanarkshire. If you use or have used mental health services or are a carer of someone who has or is using services, then you may wish to share your personal experiences to help to positively influence and improve knowledge and support for mental health in your area.
You can become a member of Lanarkshire Links for free. You will receive a copy of our free quarterly magazine – Mental Health Matters, be invited to meet with others at our quarterly members meetings, and be supported to participate in the mental health issues group in your area.
Contact:
Website: www.lanarkshirelinks.org.uk
Phone: 01698 265232 

Being active is good for us in many different ways:
It can help to reduce our stress levels
Boost our confidence and mood
Help us to concentrate
Help us to sleep
Help us look and feel better
Reduce our risk of heart disease, cancer, dementia and diabetes
Being active for a total of 30 minutes, 5 days a week will help our mental health and well-being. You don't have to do it all at once either. Three lots of 10 minutes works just as well, and makes it easy to fit into everyday life.
To access free physical activity and leisure opportunities phone: Health and Well-being Manager – 01236 341968. They will discuss the best leisure option for you and book your enrolment session. Your GP / health care worker will also have to complete the North Lanarkshire Leisure Get Active Referral Form.
'Living Life' is a free telephone support service for people suffering from low mood, mild to moderate depression, or symptoms of anxiety.
Self help coaches or therapists will guide you through a range of workbooks over a series of telephone sessions to help you overcome your problems and stay well.
For more information please visit: https://breathingspace.scot/living-life.
To make a telephone appointment, phone: 0800 328 9655 (Mon–Fri 1–9pm).
Or if you need emergency help please call the Living Life helpline on: 0800 83 85 87.
Opening hours:
Weekdays: Monday-Thursday 6pm to 2am.
Weekend: Friday 6pm-Monday 6am.

'Living Life to The Full' is a free web-based life skills course that aims to help us tackle and respond to issues/demands which we all meet in our everyday lives with low mood and stress. It will explore issues such as understanding why we feel the way we do, problem solving, noticing and challenging unhelpful thoughts and behaviours and anxiety control.
The skills taught cover general information we can all use in our lives when we feel under pressure, stressed or distressed. To register for the course visit www.llttf.com and complete as many or as few modules as you wish. If you feel you need additional help, the 'Living Life to The Full' course is also available with support from self help coaches (via Action on Depression Scotland).
From the answers you have given we feel you would benefit from support in your recovery from alcohol or drug use. For a welcoming and non judgemental approach, please contact the Addiction Recovery Team using the following contact details:
Airdrie: 01236 856126
Coatbridge: 01236 441050
Cumbernauld: 01236 638842
Bellshill: 01698 403535
Motherwell: 01698 266717
Wishaw: 01698 274070
Please be aware that by fitting the following product it will mean the person has no means of cooking hot food.
SGN manages the network that distributes natural and green gas to 5.9 million homes and businesses across Scotland and the south of England. They also provide the gas emergency service in these areas. They understand that vulnerable customers, such as people with Alzheimer's or autism, need extra safeguarding in place. Statistics show that elderly and people in vulnerable situations are at a much greater risk from gas leaks and fires in their homes. The locking cooker valve helps vulnerable customers retain their independence at home and provides reassurance to family, friends and carers. The simple safety device is fitted to existing gas cooker pipework. When the valve is locked, the gas supply to the cooker is stopped. This eliminates the risk of the cooker being unintentionally turned on or left on, and gives peace of mind to the carer or relative that the cooker can't be used when they leave the house or the room. The carer or relative can easily turn the valve on using the key when the cooker is required, enabling the vulnerable person to continue to use their gas cooker safely.
SGN have so far fitted 187 locking cooker valves in homes across Scotland and the south of England. They work with community safeguarding groups including social services, occupational therapists and emergency services to identify customers who could benefit from the safety device. They've now partnered with the other UK gas distribution networks to offer this free service nationwide. They provide this free service regardless of your gas supplier. You don't need to change energy supplier or inform your supplier of the device.
For more information, please visit the website: https://www.sgn.co.uk/LCV/
Featured Local Information
Contacting adult social care services in North Lanarkshire
The following website has a form for contacting North Lanarkshire Council about adult social care services.
North Lanarkshire Council website: Contacting adult social care services
---
Energy Grants & Housing Support Services
Energy Grants and Payments PDF
North Lanarkshire Council Housing Support Services PDF
---
A video about the new Tech Flat, which has a range of assistive technology available.
Assistive Technology Flat demonstration video
Assistive technology catalogue
---
Virtual & telephone support service, along with cancer packs service, available for people affected by cancer in Lanarkshire.
"We're still here for you"
Lanarkshire Macmillan information
---
Alzheimer Scotland
Alzheimer Scotland is Scotland's national dementia charity. Their aim is to make sure nobody faces dementia alone. They provide information and support to people who are worried about their memory and for everyone living with dementia and their families.
Alzheimer Scotland - What's Online? PDF
Alzheimer Scotland - Action on Rights PDF
---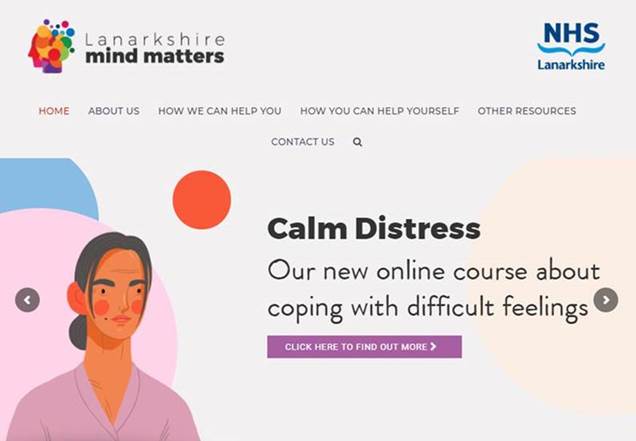 ---
Your guide to parks, green spaces and nature.
---
ALISS
A Local Information System for Scotland enabling people to find and share information on resources, services, groups and support in their local communities and online.
For more information visit: https://www.aliss.org/
---
NHS Lanarkshire - "Practical Tips to help my memory" booklet
If you have a problem with your memory it can have an impact on your ability to do everyday tasks. If you follow helpful habits and routines this may minimise the impact of your memory impairment. This booklet is designed by Occupational Therapists to illustrate some practical strategies that you might find helpful.
Practical Tips to help my memory PDF
---
What do you want for tea? booklet
Quick and easy recipes to support you to eat well at home.
---
Food Train in Lanarkshire
Food Train makes hundreds of grocery deliveries every week, ensuring those most in need have access to fresh groceries.
A team of local volunteers help with household jobs, deliver books through their library service.
They also provide friendly social contact and meals through their Meal Makers and befriending services.
Sharing food and friendship with an older neighbour PDF
Food Train Connects leaflet PDF
---
Aura in North Lanarkshire
Aura is a new service, supporting people affected by domestic abuse across North Lanarkshire.
---
This section provides a range of local services and well-being information for you to find advice or seek further assistance to support your health.
---
Take our quiz to see if you are a carer