Go back
home
Information and services
Filter by:
If gambling is causing you problems and you need to talk to someone. There are groups of people who would be able to support you. Talking to other who experience the same things in their lives in incredibly helpful as it can help you to see that you are not alone.
There is no discrimination, gambling affects people from all walks of life, doctors, bricklayers, lawyers, office workers. You are not the only person affected.
Gamblers Anonymous Scotland is a fellowship of men and women who share their experience, strength and hope with each other that they may solve their common problem and help others to recover from a gambling problem. It is common to be afraid or too proud to admit there is a problem, you may think you can overcome gambling by yourself.
There are no dues or fees for Gamblers Anonymous.
For more information or to ask for support visit http://gascotland.org
Gambling Education Hub is a Fast Forward programme that exists to support young people's health and well-being by promoting gambling education and prevention across Scotland.
Please view the attached document or visit https://gamblingeducationhub.fastforward.org.uk for more information.
---
Associated materials
The main support organisation in the UK is GamCare, which runs a national telephone helpline and provides face-to-face counselling.
GamCare also provide forums and recovery diaries so that you can gain support and learn from the experience of others. You can also find support if you are affected by someone else's gambling problem.
Contact Information:
Organisation: GamCare
Website: www.gamcare.org.uk./
Forum: www.gamcare.org.uk/forum?f=20
Phone: 0808 8020 133
Walking is a great form of exercise. It is free, most people can do it, you don't need any special equipment and it has many health benefits. To encourage more people to walk more often, Get Walking Lanarkshire runs a programme of weekly health walks, covering both North and South Lanarkshire. Health walks are free, short and gentle walks and everybody is welcome.
Contact Information:
Website: www.northlanarkshire.gov.uk/leisure-parks-and-culture/countryside-and-parks/outdoor-access/get-walking-lanarkshire
Email: getwalkinglanarkshire@northlan.gov.uk
Phone: 01698 402077
Mobile: 07903358424
North Lanarkshire Carers Together is an organisation that represents carers interests, and works to improve the quality of their lives. Membership is available to anyone in North Lanarkshire who is a carer in any capacity.
The group is based in Motherwell and if you'd like to get in contact, please phone 01698 404055 for further information.
The Parkinsons Self Help Group (PSHG) provides people with Parkinson's, as well as their carer's and families, with information and advice on all aspects of living with their condition to improve their quality of life. They do this through friendship, encouragement and social activities.
For more information, please phone on 01236 766350 or visit their website by following the link: www.parkinsonselfhelp.org.uk/.
Dementia Café is a free café where you can meet people and access information and support. For more information, please contact Alzheimer Scotland by using the following details.
Contact information
Email: lanarkshireservices@alzscot.org
Phone: 01698 275300
Alzheimer's Scotland give advice and support to people with dementia and their carers. The services they provide include: information, advice, support, carer education and outreach support. To find out more, please get in touch by using the following information.
Contact information
Email: LanarkshireServices@alzscot.org
Phone: 01698 275300
Address: Old Town Hall, High Road, Motherwell ML1 3HU
There are various groups throughout North Lanarkshire supporting and giving information on Mental Health issues. Please call 01698 265232 to get exact information
You have answered that your clothes size has increased in the last 3-6 months. If this has happened without you trying to, and is something that you would like help with you may find that exercising or participating in group activities may help. If you don't feel confident, we have found going with someone you know might help.
North Lanarkshire Council offer the 'passport to leisure' scheme which gives price reductions on sport, leisure and cultural activities.
To find out more you can contact the Learning & Leisure Services using the details below.
Contact Information:
Website: www.northlanarkshire.gov.uk/index.aspx?articleid=27674
Phone: 01236 812595
Featured Local Information
Contacting adult social care services in North Lanarkshire
The following website has a form for contacting North Lanarkshire Council about adult social care services.
North Lanarkshire Council website: Contacting adult social care services
---
Energy Grants & Housing Support Services
Energy Grants and Payments PDF
North Lanarkshire Council Housing Support Services PDF
---
A video about the new Tech Flat, which has a range of assistive technology available.
Assistive Technology Flat demonstration video
Assistive technology catalogue
---
Virtual & telephone support service, along with cancer packs service, available for people affected by cancer in Lanarkshire.
"We're still here for you"
Lanarkshire Macmillan information
---
Alzheimer Scotland
Alzheimer Scotland is Scotland's national dementia charity. Their aim is to make sure nobody faces dementia alone. They provide information and support to people who are worried about their memory and for everyone living with dementia and their families.
Alzheimer Scotland - What's Online? PDF
Alzheimer Scotland - Action on Rights PDF
---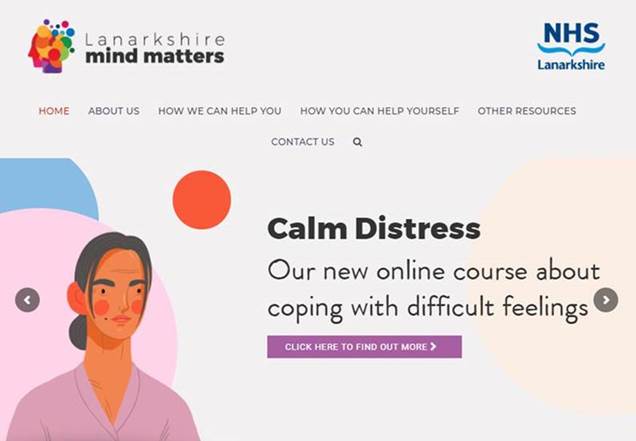 ---
Your guide to parks, green spaces and nature.
---
ALISS
A Local Information System for Scotland enabling people to find and share information on resources, services, groups and support in their local communities and online.
For more information visit: https://www.aliss.org/
---
NHS Lanarkshire - "Practical Tips to help my memory" booklet
If you have a problem with your memory it can have an impact on your ability to do everyday tasks. If you follow helpful habits and routines this may minimise the impact of your memory impairment. This booklet is designed by Occupational Therapists to illustrate some practical strategies that you might find helpful.
Practical Tips to help my memory PDF
---
What do you want for tea? booklet
Quick and easy recipes to support you to eat well at home.
---
Food Train in Lanarkshire
Food Train makes hundreds of grocery deliveries every week, ensuring those most in need have access to fresh groceries.
A team of local volunteers help with household jobs, deliver books through their library service.
They also provide friendly social contact and meals through their Meal Makers and befriending services.
Sharing food and friendship with an older neighbour PDF
Food Train Connects leaflet PDF
---
Aura in North Lanarkshire
Aura is a new service, supporting people affected by domestic abuse across North Lanarkshire.
---
This section provides a range of local services and well-being information for you to find advice or seek further assistance to support your health.
---
Take our quiz to see if you are a carer