Go back
to local info
Featured Local Information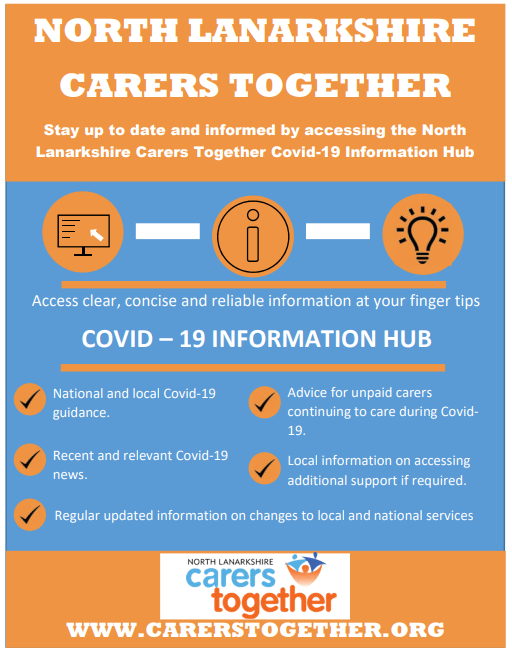 This section provides a range of local services and well-being information for you to find advice or seek further assistance to support your health.
Take our quiz to see if you are a carer
The NL Locator provides details on a variety of different activities such as fitness classes, arts and crafts, social groups, etc. You can view activities in your local area.
Around the Home - Local information
Showing 10 of 15 results
North Lanarkshire Community Alarm and Telecare Services
If you need reassurance feeling safe around the home, you may want to consider a telecare and community alarm assessment, which can provide help when you need urgent assistance.

Please see this section of Making Life Easier for further help by following the link here.
Reporting a bogus caller to Trading Standards
Your answers have indicated that you have regretted letting someone into your home, e.g. someone claiming to be from a utility company or a pushy sales person.
If you have not already done so, you may wish to report this person to Trading Standards on 01236 856361 or email TradingStandards@northlan.gov.uk. In order to investigate this, they will need as much specific information as possible.
Strength and Balance Classes in North Lanarkshire
You may be interested to take up Strength and Balance Classes. You can attend your first class as soon as is convenient for you – there is no need to book in advance – just turn up. If the class detailed does not suit you, please call Melanie and you can slot into another class (01236 341709).
Please see the attached document for more information on locations and times.
---
Associated materials
Local Information - Benefits for the visually impaired
To find out more about registering as sight impaired (patrially sighted) or severely sight impaired (blind), please contact a Rehabilitation & Mobility Officer at your local Social Work Office.
Local Information - Organisations that help the visually impaired
Please see the attached document for information on organisations that help the visually impaired.
---
Associated materials
Local Information- Low vision and Magnifiers
The Lanarkshire Low Vision Project provides low vision aids to people with a visual impairment within Lanarkshire. Referrals are accepted from any source, including self-referral and assessments are carried out by named optical practices in each town.
You will be provided with advice and equipment, such as a magnifier to help with reading small print, if the optometrist thinks this will be helpful. A Rehabilitation Officer from North Lanarkshire Council's Health and Social Care can advise on how to make the best use of remaining vision using lighting, magnification and colour contrast.
If you would prefer to make your own arrangements, you can contact your local Social Work office to arrange an appointment.

Local Information- More information on your eye condition
If you would like further information about eye/sight conditions, you can contact Visibility. If you would like to know more about the services they provide, please get in contact by using the following information.
Contact information
Website: Visibility
Phone: 0141 332 4632
Address: 2 Queens Crescent, Glasgow G4 9BW
North Lanarkshire Council also have a team of Rehabilitation and Mobility Officers who deal with people with a sensory impairment. They can provide information and practical advice, including mobility training and independent living skills training.
They can be contacted through your local Social Work Office. Alternatively, please email info@visability.org.uk
For any further information, please visit the RNIB website: www.rnib.org.uk/
Local Information- Registering a visual impairment
If you have substantial and permanent vision loss in both eyes you may wish to register as sight impaired (partially sighted) or severely sight impaired (blind). Registration simply means having your name added to a confidential list of people who have permanent sight loss.

Keeping this register allows North Lanarkshire Council to meet the needs of people with a visual impairment and it is also required for certain financial benefits and consensus. Registration is entirely voluntary.
If you decide you want to register, you must be referred to the hospital by your GP or optometrist. Your Eye Consultant will decide if you are medically eligible and then certify, using form CV1, that you can be registered as sight impaired (partially sighted) or severely sight impaired (blind).
For further information, contact a Rehabilitation and Mobility Officer at your local Social Work Office.
Try before you buy locations
Many people find that with certain products it is very helpful to try before you buy to be sure that you are getting something that will really help you. There are many centres across the UK which have equipment on display for you to try.
Advice on trying before you buy is also available from www.ageuk.org.uk
Local Information- Help or services around the home
For information on help around the home services available to you, please contact your local council. You can find their contact details on the contact us page on this website.